When we set out to plan the perfect family vacation for a set of cousins who grew up like brother and sister and a couple who some had met only once before, we knew we needed a place that was extremely special. This place needed to rekindle a connection to an island that some had not been in touch with while others were vastly familiar. A spot that felt like home, except with a beach as the backyard, just beyond the pool, with all the bells and whistles of the luxe vacations we have all become accustomed to. One of those. Since all I do is travel, for business and for pleasure, I wanted to have another expert in the field handle the search for me. When the lines between work and play blur, life can feel like one long luxurious vacation. This time around, I wanted clarity. A distinct line, although drawn in the sand, between personal time and profession. Selecting just the right villa can be a challenge or an art. I chose to rely on the artistry and guidance of a dedicated villa company called Jamaica Villas. Their expertise lies in helping travelers find their dream vacation. Their world-class villas come fully-staffed, offering comfort and convenience from start to finish. I knew that my family and I could enjoy the vacation of a lifetime knowing meals, cleaning, and more were covered — giving us a true haven of retreat. Who is going to say no to that level of mastery?
We chose Jamaica because it is home. Home to warm weather, incredible gastronomic options, and opportunities to unwind, and it quite literally was the birthplace and home to most of us, making it our perfect island choice for this getaway. From the moment we decided to head home to reconnect while disconnecting from our lives back in the states, we set out to find the perfect villa specialists who could understand our needs and find the exact fit for us. Fortunately, the moment that Jamaica Villas came highly recommended to us, we reached out to them and instantly began to receive villa options for review. The trick was to get 14 adults and 2 children to agree on 1 villa. The children were remarkably easy to please. Their criteria included a beach and a pool. The three-year-old would have loved a fish pond and the seven-year-old a pickleball court. It was the grownups that we knew would require spacious accommodations, great gathering places throughout the villa, and enough room to create private moments of their own, that presented the challenge.
Villa Malatai, the very first villa we received to review for our dates, was spot on.  We have been all over the island, as I am sure you can imagine. Stayed in Montego Bay, Negril, Hanover, and pretty much every top-notch Jamaican spot you can think of. This time we wanted to be close enough to things to do yet remote enough to only hear the crickets chirp between the sounds of the gently rolling wave that we were looking for.
Malatai is a family-friendly island haven. Once a sleepy fishing village, Ocho Rios has evolved into a bustling hub of cultural excitement offering gourmet cuisine, great bars, watersports, nature adventures, and more. The town is known for more than just its city-center and fine shopping. Guests of all ages enjoy plantation tours and experiencing the rich history and culture of Jamaica. The island's natural wonders like Dunn's River Falls, a 600-foot waterfall that courses gracefully through lush forests and lagoons before culminating in a clear pool on a beautiful white-sand beach is only moments away. Whether by land or by sea, the options for adventure are virtually endless and we took advantage of Chukka's in-villa service. They came to us and booked every activity we desired right at the bar at our villa. Now, that is exceptional service. Known as a hub of activity for scuba enthusiasts, and all types of watersports, we didn't have to leave the villa more than a couple of times. Stand up paddle boards, Kayaks, snorkeling gear, rafts, and other sea toys are all stocked and ready to be enjoyed. We would wake up in our four-poster bed, gaze through the rich mahogany framed windows and the early morning calm of the sea would beckon us. Some mornings we would meet each other on the rolling seas just before breakfast, just because we could. Like ships crisscrossing, one couple would be seen on paddleboards, another on kayaks, and kids snorkeling with their dad. As the lazy days melted into unobstructed sunsets, the two-story villa edged by the soft green grass, gracefully transformed from its daytime facade into a softly lit stage upon which we made more family memories. Dinners were set around the large round mahogany table where food was served buffet style and family tales were exchanged. As we had recently lost our uncle, father, brother, husband, patriarch; uncle Al, who had been on so many of these villa vacations that it almost felt like he had simply missed this one. Everything seemed unchanged until it hit aunt Betty who was snapping photos and the thought crossed her mind that she couldn't wait to get home and share the images with him. Then reality set in that there would not be that happy exchange. These were new memories.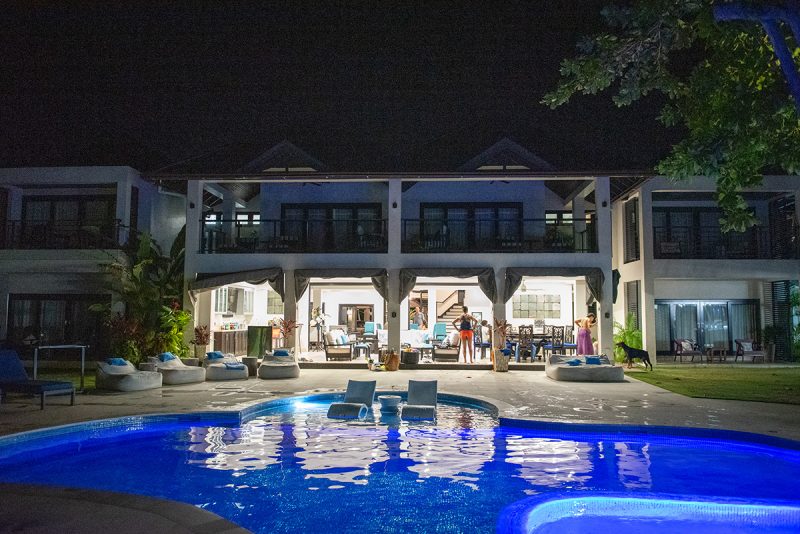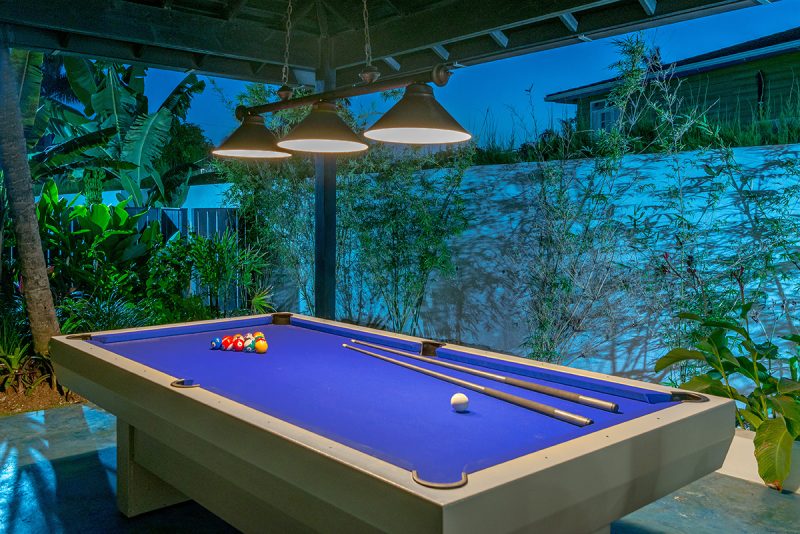 Singing karaoke in the evenings, howling with laughter at some of our song selections, chasing cars around the house, rocking in a hammock trying to make it flip, building sand castles, making up new rules for pickleball with two little boys put a smile on everyone's face. The youngest created a ritual of feeding the koi fish in the mornings before he had eaten. We each had our own suites within the villa, terraces for the second floor and patios for those on the ground. The villa life suits us and Malatai on the beach was an excellent choice for this summer. On days we wanted to wander we took Chukka concierge experiences that pretty much took our collective breaths away. Jumping off of a 25- foot platform into raging 30-foot deep waters which had
a backdrop of a raging waterfall that was flowing at who knows how many miles per hour, was probably something none of us would have done on our own. These were leaps of faith stretching the boundaries of what most of us thought we could do. To call this an adrenaline rush is an understatement. As the kids say ten out of ten would recommend. Trust me, it is not for the faint of heart but it will put a youthful grin on your face once you pop back up to the surface and get swept downstream to the awaiting guides.
If you are looking at a villa vacation in Jamaica, I can tell you that you are looking in the right place. There's something special about the island, but more than that, there is something special about a villa vacation. Whether you want to disconnect or reconnect, the level of service, privacy, and uniqueness is unparalleled to what you can receive in a hotel vacation.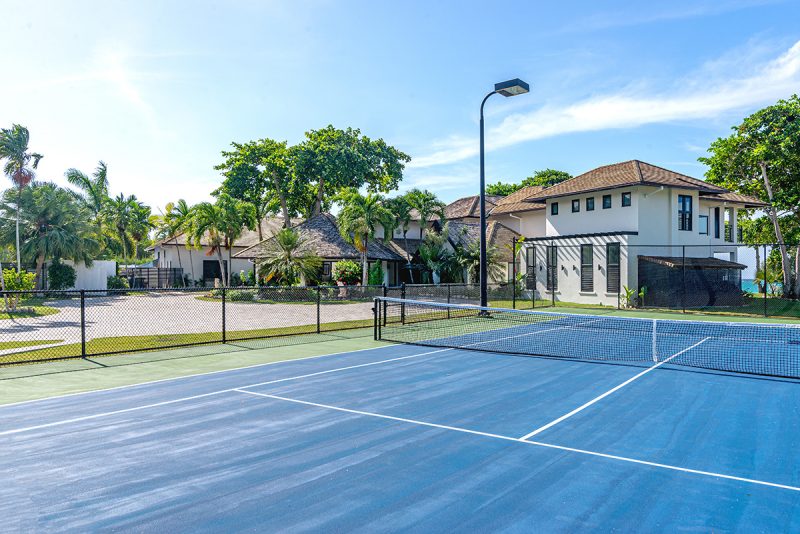 The nuts and bolts of where we stayed:
Inside-outside living, beachfront private villa … perfect for families!!
8-bedroom/8 plus 2 half-bathrooms' private villa in Old Fort Bay Private gated community
full staff: butler, chef, assistant chef, housekeepers, laundress, gardener
35 foot private pool with 26-inch deep shallow wading area for children with Baja ledge with two in-water loungers
poolside hot tub
private lit tennis/pickleball court, for day and night time play, with back board for single play and basketball hoop.
private gym with A/C, Treadmill, 3 spin bikes, TRX bands, free weights 5-30 lbs, television and Sonos sound system
BBQ area, outdoor kitchen and dining
lighted Pool table next to the pool
wireless internet throughout
satellite/cable television in every bedroom
media room with flat-screen TV with Sonos sound and comfortable seating
cribs and highchairs
SONOS sound system (connect your portable device or stream thousands of radio stations from around the world)
generator, bedroom safes and electronic security
Disabled access – wheelchair ramps for all areas
Just west of Ocho Rios, a small lane leads to a brilliant oceanfront villa. As your driver arrives, an electronic gate opens to reveal the large and splendid private home named Malatai. I hope you have as much fun making memories here as we did. Life is a journey filled with a beautiful series of events.
Live it up.
*please check www.ItTakesAVilla.Net for our curated selection of villas for your next vacation.