Come with me and I'll explain. It all started at the birthplace of the Piña Colada, the Caribe Hilton in San Juan, Puerto Rico. Ramon "Monchito" Marrero invented the cocktail in 1954 when a competition arose at the hotel. So our island experience began in the same lobby. The barback who worked with the originator is still there today, working in the same position and validating the hotel's claim to fame.In 2021, the Caribe Hilton made 54,207 piña coladas for guests. This month, we tried to break that record in just one weekend! No such luck, but we sure had fun trying.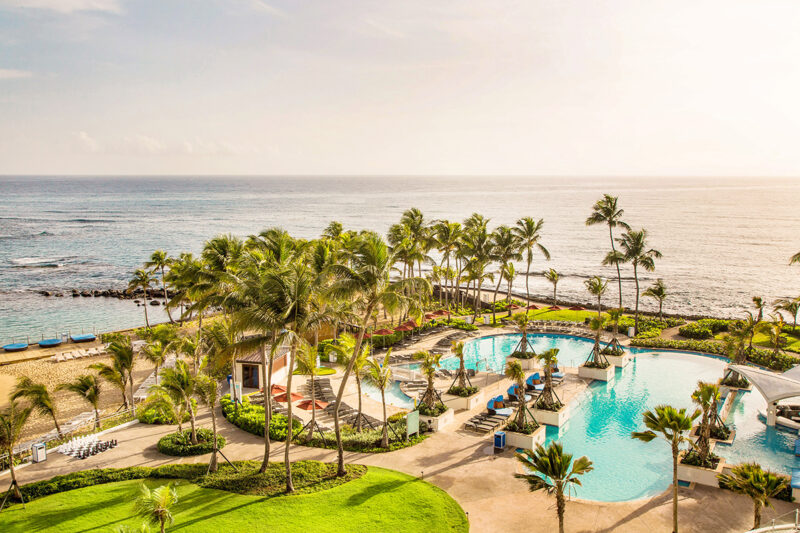 Staying at the Caribe, as I affectionately call it, puts guests in the center of all the action. The bustling city of San Juan, the airport, the modern attractions are all outside your window. If you're a walker, you can easily head into Old San Juan from the lobby as it's not that far and the ocean is always by your side, making it a fun island adventure.  You'll pass forts and historic sites on your way up to the cobblestone streets. We took to those streets one afternoon to meet our walking food tour guide from Flavors of San Juan. We walked and ate and sipped and laughed. Our guide was a walking encyclopedia and foodie. She filled our bellies and our minds as we enjoyed every morsel of what she was dishing out.
We made our own dish at one of our 6 stops along the Classic Old San Juan Tour. There was a cafe stop where the locally grown and roasted beans they used in our cortado (a small strong coffee with a dash of frothy milk) were the perfect balance between dark and lovely, rich and sophisticated. The cup of amazingness played second fiddle to the ham and cheese croissant that was accented by an unmissable guava butter. Although this stop was early in the tour, starting and ending here would have been satisfying. The warm sandwich set a very high bar for the remainder of the day. I will not give away all of the secrets of the tour and divulge the locations. I think experiencing smashing plantains, pairing rums and chocolates, and enjoying the quips of your guide are far more fun than popping in to Cuatro Sombras on your own. Oops!
Fine, you forced it out of me, but still take the tour, stay at the Caribe Hilton, sip on Piña Coladas if you have half a brain.
If you would like to try setting the tone before your next trip, below is the actual  "Monchito" recipe to get you in the right frame of mind.
The original

Piña Colada Recipe:
2 oz white rum
1 oz coconut cream
1 oz heavy cream
6 oz fresh pineapple juice