When one thinks of a Caribbean getaway, destinations like the Bahamas, Dominican Republic, Jamaica, and the U.S. Virgin Islands come to mind readily. These are undoubtedly popular and well-known choices, but venture a bit farther south and there's a populous island just a heartbeat away from South America that deserves a spot on every traveler's radar.
Long known as a business travel hotspot, especially among those employed in the oil and gas sector, Trinidad boasts unmatched cultural diversity, natural beauty, unpretentious Caribbean hospitality and a plethora of attractions, activities, and delights to win over any visitor.
A Harmonious Tapestry of Cultures
Trinidad's greatest asset is its people, who form a harmonious tapestry woven from many ethnic and cultural backgrounds. This diversity has created a vibrant and inclusive society that welcomes visitors with open arms. From the bustling streets of Port of Spain to the tranquil villages dotting the countryside, Trinidad offers a kaleidoscope of cultures coexisting in enviable harmony. The island is a testament to multiculturalism, with a rich history that includes African, Indian (South Asian), Chinese, European, and indigenous influences. This cultural amalgamation is most prominently showcased in the island's festivals and celebrations, where Christians, Hindus, Muslims, and other groups come together under the powerful Trinidad and Tobago brand.
Year-Round Festivals and Authentic Insights
While Carnival is undoubtedly the crown jewel of Trinidad's festival calendar, featuring dazzling costumes, the electrifying beat of soca music, and the soul-stirring resonance of the steel pan, Trinidad's year-round festivities provide an authentic insight into the local way of life and offer a glimpse into the nation's soul.
A highlight of Trinidad and Tobago's Carnival is the Panorama steel pan competition, featuring the only musical instrument invented in the 20th century. "Pan is spirit. Pan is me. It's a vibe. It's a feeling that you can't explain, but yet still it's surreal. It's about passion, it's about love, it's about togetherness," explained Desiree Myers, music coordinator of the Shell Invaders Steel Orchestra. "I love the steel pan. I wouldn't give up that instrument for any other."
Cultural Celebrations for All
Trinidad's festivals include Divali, the Festival of Lights, which is celebrated by the Hindu community. During Divali, the night sky is illuminated with the soft glow of countless diyas (oil lamps), creating a breathtaking spectacle. Visitors are welcomed to join in the festivities, partaking in traditional dances, savoring delectable cuisine, and learning about the significance of this sacred event.
Additionally, Eid-ul-Fitr, marking the end of Ramadan for the Muslim community, is celebrated with great fervor. People from various backgrounds in Trinidad often come together to participate in the traditions of breaking fast, symbolizing the nation's values of unity and togetherness. And as the year draws to a close, Christmas emerges with sumptuous cuisine (including tasty pastelles), jubilant parang music, and heartwarming gatherings.
Culinary Delights and Natural Wonders
Trinidad's culinary diversity is another layer of richness in its cultural tapestry. Mouthwatering dishes like roti, callaloo, doubles, pelau, and fiery hot pepper sauces add an extra kick to every meal. One culinary experience not to be missed is the famous bake and shark fish sandwich at Maracas Beach.
"Bake and shark is generally popular because it's fresh, but it's also because you can piece it together for yourself," said Tano Harewood, general manager of Island Experiences. "You can put any type of fruits and vegetables that you want. Some people put pineapple, some people put avocados, tomatoes, lettuce, coleslaw. Then you combine it with an array of different flavors. You can put the chadon beni (cilantro) sauce, tamarind sauce, and when you combine all of these things with some of our local spices, it creates an explosion of flavor. And this is one of the reasons why it's considered one of the top ten sandwiches in the world."
Beyond its cultural treasures, Trinidad boasts a stunning natural landscape that will leave any nature enthusiast inspired. The island's lush rainforests, majestic waterfalls, and relaxing beaches offer endless opportunities for adventure as well as relaxation. Hikers and nature lovers can explore the vast Trinidadian rainforest, home to a diverse range of flora and fauna. The Asa Wright Nature Centre, a world-renowned birdwatching destination, allows visitors to spot some of the most exotic bird species in their natural habitat, while the Caroni Swamp, filled with wildlife, including one of the island's national birds, the Scarlet Ibis, is a must-visit.
The "Land of the Hummingbird" also boasts hidden gems, such as the magnificent Gasparee Caves, just waiting to be experienced. Here, you can descend 100 feet underground into limestone caverns and explore natural tunnels. In the southwest, witness La Brea's Pitch Lake, the largest natural deposit of asphalt on Earth. These unique experiences add a sense of adventure and wonder to your Trinidadian journey.
Sports Tourism
Trinidad's allure extends beyond its cultural and natural treasures; it's also a sporting haven that beckons enthusiasts and athletes alike. The island features a diverse array of sports, making it a destination of choice for sports tourism. From Caribbean Premier League cricket games to world championship athletics meets, football, tennis and swimming, Trinidad offers something for everyone. With world-class facilities and a fervent sporting culture, Trinidad ensures that sports enthusiasts and athletes have a memorable and active stay. Whether you're a spectator or an athlete looking to hone your skills, visitors can be part of Trinidad's sporting legacy, which has produced the likes of cricket legend Brian Lara, sprint sensations Hasley Crawford and Ato Boldon, and world-class swimmer George Bovell.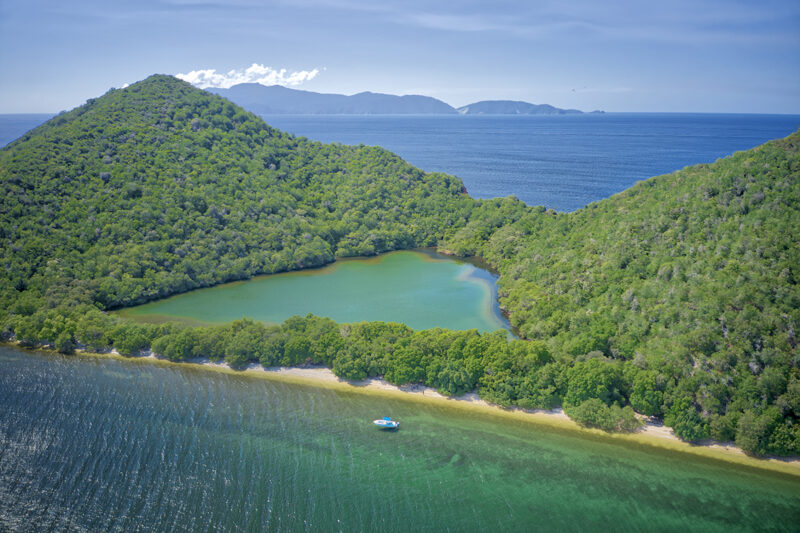 Varied Accommodations Amidst Natural Beauty
The island has an abundance of accommodations to select, including Hilton Trinidad & Conference Centre, a landmark "upside down hotel" with its entrance on the top floor. The hotel is located in 25 acres of gardens and close to the National Museum & Art Gallery, Queen's Park Savannah, the Royal Botanic Gardens, and Emperor Valley Zoo.
A Caribbean Wonder Awaits
Trinidad is a captivating Caribbean destination that transcends the typical beachside vacation experience, something which can be seamlessly experienced in the sister isle of Tobago. It's a place where cultures converge, nature thrives, and memories are made. So, add Trinidad to your travel radar and prepare to embark on an unforgettable journey of discovery and delight in the heart of the southern Caribbean.