Have you ever loved a destination so much you considered staying permanently? We certainly have, and so had our very own editor Chef Dylan Benoit until one day, he just did it. We recently caught up with international chef Dylan Benoit to talk about his top food destinations, living life in the Cayman Islands and being the host of the hit television show Fire Masters on Food Network Canada and Cooking Channel US.
---
Caribbean Living: Thank you for sitting down with us, the last 18 months have been quite the rollercoaster, how have you been keeping yourself busy during a global standstill?
Dylan Benoit: It's always great to spend time with my favorite magazine, Caribbean Living! You know, it's been a trying time for so many (especially in the hospitality industry) and I am so grateful that I have been able to utilize the time I've had to perfect my craft, reflect on what is important and realize how much travelling and experiencing the world means to me. I can't wait to feel the rush of getting on a plane again and changing up my scenery.
CL: We miss that too! But we're getting closer to that day again soon we hope. Speaking of travel, what are your top food and travel destinations that you would love to return to?
DB: I love traveling around Asia! Particularly Hong Kong, Vietnam and Indonesia. The variety of dishes, cultures and geographies set the stage for life changing experiences daily. I've yet to make it to Japan and South Korea but they are top of the list for when travel becomes less restricted. I've also spent a lot of time in Mexico, Central and South America.
CL: Is there a place you loved to travel but you were disappointed in the food?
DB: The food in Central America is not disappointing, but it's all very similar. I found when travelling between Honduras, Guatemala, Belize and Nicaragua there were little to no variations in the ingredients and dishes. Not like the drastic changes you see when traveling between countries in Asia, Europe or even South America.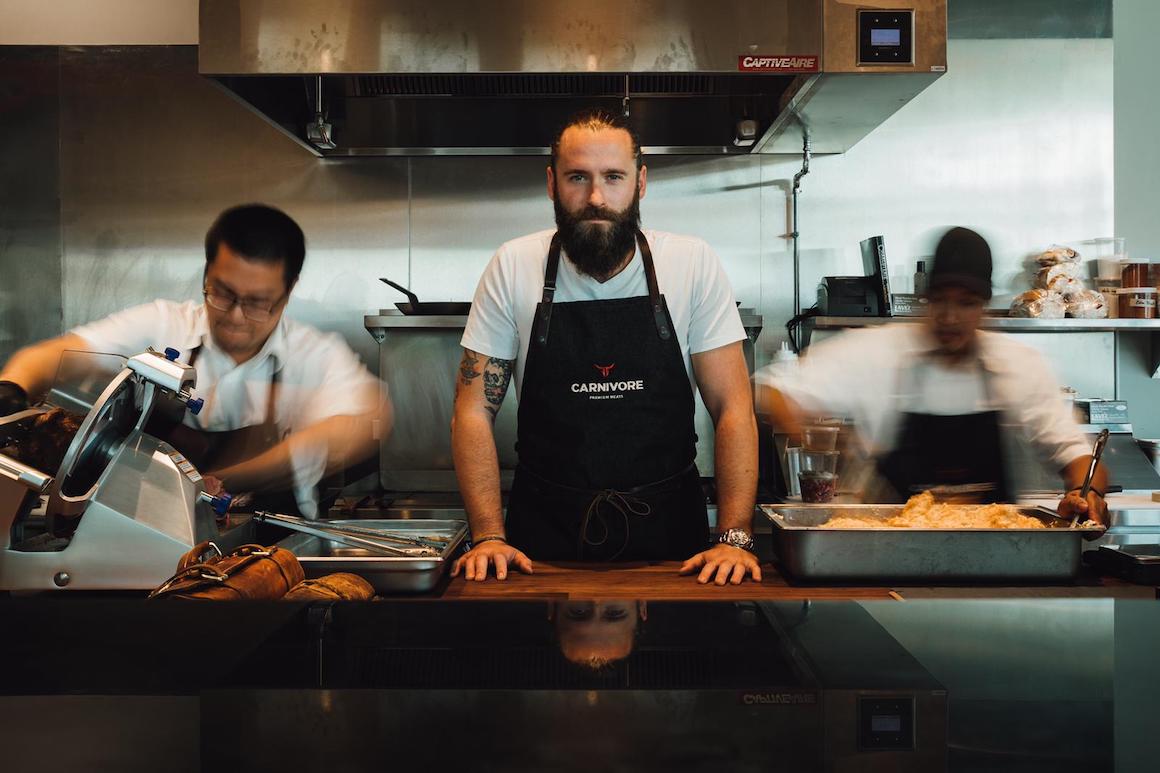 CL: You've travelled a lot, what made you decide to make Cayman your home?
DB: I fell in love with Cayman from the moment I landed. Not only due to the white sand beaches and postcard worthy turquoise waters, but also the people and the community. The lifestyle here is drastically different to what I've known growing up in Canada or travelling the world; It's a Caribbean Island with a typical Caribbean vibe, but it's still very forward and developed so there are more comforts that in some other Caribbean regions. Plus, Cayman is known as the Culinary Capital of the Caribbean, so it was a perfect fit!
CL: So, you're not much of a snow and mountain kind of guy?
DB: There is a great lyric by Damien Rice that says "give me miles and miles of mountains and I'll ask for the sea". I love mountains, but I'm always drawn back to the ocean. I tolerate snow and the cold but only in very measured doses. I'm always down for a ski trip or an arctic adventure, however, if I'm in one place long enough where I need to shovel a driveway then I've overstayed my welcome.
CL: Makes perfect sense! So, you're well acclimated to island life by now, what is your favorite Caymanian dish or ingredient?
DB: My favorite dish, which has its roots in Jamaican cuisine, is oxtail – hands down. Cross-cut sections of beef tail slowly braised in a brown gravy until rich and sticky from all the natural gelatin and nearly falling off the bone. Served up with some rice and peas and a couple frosty beers, oxtail is real stick-to-your-ribs food and I love it. My favorite ingredient is definitely seasoning pepper. A member of the capsicum family that looks like a small spicy pepper and has zero heat but an unmistakable flavor and aroma that I've never experienced anywhere else.
CL: Tell us about Prime Consulting and Carnivore Premium Meats.
DB: I started Prime Consulting in 2018 as a food & beverage consulting company and since then we've grown to have a few other branches. Most notably is Prime Kitchen, our private chef and catering division, where we curate bespoke culinary experiences for our clients in Cayman and abroad. Whether it be a small group or a large party our team of chefs work alongside our clients to ensure the perfect menu and the best service is on hand for their events or dinner parties.
Then in February 2019 just a few weeks before the world shut down, we opened Carnivore Premium Meats, Cayman's only butcher shop providing premium quality meats, sausages, charcuterie, sandwiches and more. Fortunately, we were able to make quick adjustments that allowed us to continue servicing the people of Cayman with incredible products and now that we're back to a semblance of normalcy, business is ticking along nicely.
CL: What inspires you to keep doing new things like Carnivore?
DB: Travel has always been the single most important factor in my inspiration around cooking. Going to new places, meeting new people and learning about new dishes, ingredients and cooking techniques, then reflecting back on how I can incorporate the things I've learned into my menus and restaurants. Before opening Carnivore, I did a trip to Germany to explore their rich history of butchers and further my skills and comprehension in the craft of making fresh and dried sausages.
CL: Sounds incredible, I'm getting hungry just hearing about it! Let's talk about Fire Masters. What is it like to be the host of a Food Network television show?
DB: It's wild to be honest! To think of the success the show has had, and that it keeps getting more and more popular…I never intended to be on television, but when the opportunity presented itself and I was told about the concept I knew it was going to be a lot of fun and I wanted to be involved. We're now about to start filming the third season this month and I grow more enamored with the process every time. My first few days of production on Fire Masters were like my first shifts as a young cook all over again. I was thrown into a completely new environment where people were buzzing all around me doing things I've never seen with razor like speed and precision, working in unison like a Swiss watch. I had to (quickly) learn who each person was, what their jobs were and where their stations are. Then I needed to learn a whole new language of terms and slang that must be thoroughly understood and a schedule that must be rigorously adhered to. Meanwhile, the whole time if a single thing goes awry the things can untangle very quickly and the whole train risks derailment. In fact, it's just like working in a busy kitchen.
CL: Sounds like you have plenty of irons in the fire! What do you do in your spare time, if you have any?
DB: Spare time is a precious commodity for me these days, that's for sure! But when I get some I'm often hanging out with my girlfriend and my dogs, going to the beach, scuba diving or tinkering on an old car or motorcycle. Oh, and keeping an eye out for my next great meal.
Catch Dylan on Fire Masters every Thursday night this July and follow him on social media @DylanMBenoit